Troubleshooting PU
Q: I don't have all cars on my profile, what can I do?
A: Install Rick's clean garage and you will have all the cars. Here are the steps you will have to follow:

Step 1: Before downloading Rick's clean garage, make sure you have an existing profile in your game. (Also make sure that no profile is named same as your IPLounge username).

Step 2: Download Rick's clean garage - Download.

Step 3: Move the GARAGE.zip file to the SaveData folder (from your NFS PU folder) and unpack it.

Step 4: Unpack garage1.zip and garage2.zip.

Step 5: Open the NFS Persona Editor, select 0GARAGE.sav file, change the Personna: filed (from New Game Data:) from GARAGE to your IPLounge username, click Apply.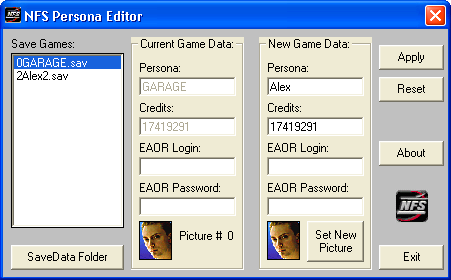 Step 6: Load game and delete the GARAGE profile.
NOTES: You may have to have a look at Options section in the game and set your game options again.
This profile is set for wheel driving, so you may have to reset controls to default if you're using keyboard.
Rick recommends to set TOE IN setting to far left for all cars if you're using keyboard.