Configuration PU - NFS PU Update
4. Updating Need For Speed: Porsche Unleashed to version 3.5.
Before trying to update your game, check you current version of your NFS PU game. To do that, you must open IPLounge, right click in the race box (just under Race Time) and select Scan. If your NFS PU version is older than 3.5 or if you get "Unknown Version" error, follow the next steps:

Step 1: Download the Official EA 3.5 NOCD Patch - Download.

NOTE: If you didn't install NFS PU from CD and if you have SetupReg.exe in your NFS PU folder, run SetupReg before running the nfs5uv35nocd patch.
Step 2: Move the nfs5uv35nocd.exe file to your NFS PU folder and run it.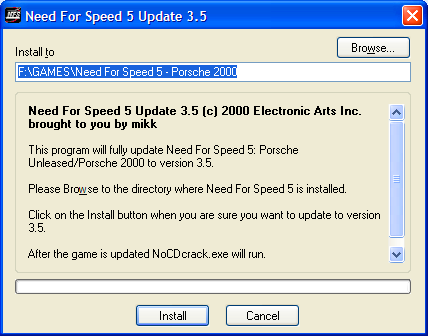 Step 3: Click on the Install button.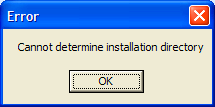 Step 4: If you get this error, you must run SetupReg from your NFS PU folder and then run the update again.
If you don't have a SetupReg file in your NFS PU folder, you can download, move it to your NFS PU folder, unpack it and run it. Download

Step 5: Click on the Yes button.

Step 6: Click OK. The update has installed successfully.


IMPORTANT: If you are using Windows XP, you must also install the NFS PU XP Fix - Download.
After you have installed the Official EA 3.5 NOCD Patch, your Scan should look like this:
PU CRC check Started
Porsche.exe 3.5 Common1 NOCD Version
PU CRC check Finished OK